"Getting Dressed in Uast" Graphics Gallery
text and line drawings copyright 1997 by Lady Melisande of Hali
This is an actual surviving headcloth of the Eighteenth Dynasty, shown on a museum-provided head manniquin.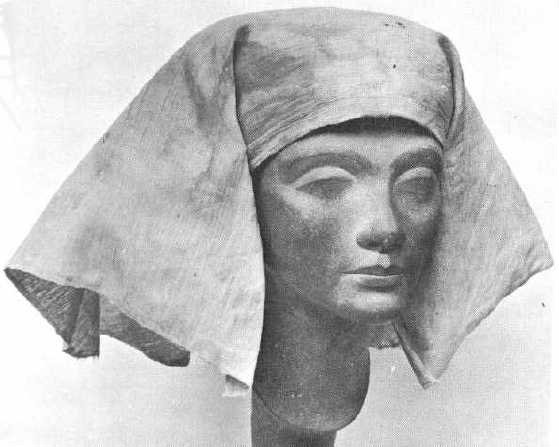 Back to "Getting Dressed in Uast"
This ivory statuette of the early Twelfth Dynasty shows not only how the gowns were stylised in carving so as to look like Spandex, the coverage of the straps, etc., but the incised lines, while they may be decorative stripes, may also be pleats in the body of the gown.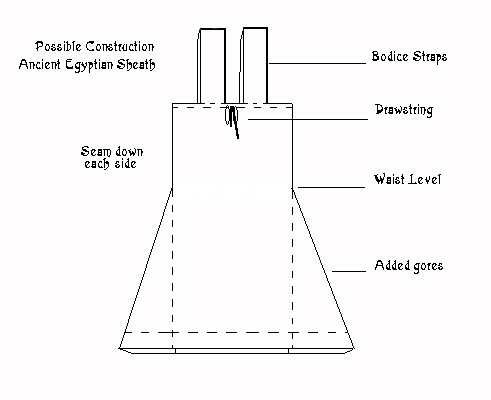 Back to "Getting Dressed in Uast"
This scene is found on the back of King Tut's throne, about 1350-1340 BC. He wears a pleated skirt to the ankles, over which a pleated sash is caught around the rump and pulled forward to tie in front. It sits exactly as to the hip sashes so worn with a number of modern-era Middle Eastern women's costumes, like ghawazi dancers. By the pleats and drape, her translucent pleated linen robe is like a poncho: the head goes through a hole (covered by the beaded collar) while she holds her arms out to the side; the robe comes out to her elbows. Then the long golden girdle is tied under her bust. The poncho may or may not be seamed down the sides. The giveaway on the drape is the direction of the pleats on the arms, and the necessity of the tie.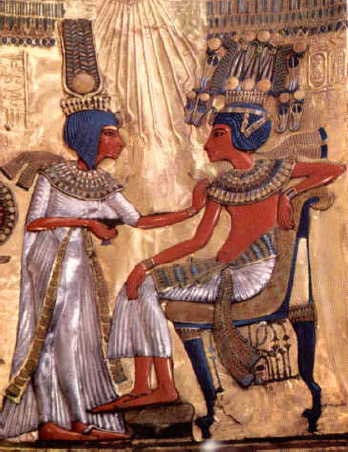 ---
Back to "Getting Dressed in Uast"
Back to Times and Places